Ayer se disputó la última jornada de la Veikkausliiga 2016. Tras la misma y después de vencer en su partido ante Ilves por 2-1, IFK se proclamó campeón de la liga finlandesa, por primera vez en su historia.
En las próximas entradas, iré introduciendo detalles sobre el Campeonato disputado en 2016. Ahora hay varios meses sin competición (hasta Enero 2017 que empieza a disputarse la Copa de la Liga), con lo que habrá tiempo para referirse a clasificaciones personales, ascensos, descensos, etc..
Pero en éste articulo, es justo hacer mención al ya campeón de la competición.
Fundado en 1919, IFK no tuvo sección de fútbol hasta mediados los años 30. No fue hasta finales de los 90 principios del 2000, cuando IFK empieza a consolidarse en las máximas categorías del fútbol en Finlandia. Desde finales de los 90 participa en Käkkonen (equivalente a 2B), ascendiendo a ykkönen (segundo) en 2003 y finalmente a Veikkausliiga en la temporada siguiente. Durante las doce temporadas seguidas que el equipo lleva en la máxima categoría, ha conseguido tres veces finalizar en cuarta posición, siendo su mejor clasificación hasta el título conseguido en ésta temporada.
Para ésta temporada, IFK comenzaba con nueva pareja de entrenadores, Peter Lundberg y Jari Virtanen, que sustituían a Pekka Lyyski, que tras doce años en el cargo, dejó el mismo a final de 2015, consiguiendo el título de Copa (Suomen Cup) y con el equipo clasificado en sexta posición de la Veikkausliiga 2015.
Pocos o muy pocos apostarían por IFK como uno de los candidatos al título liguero; imagino que la balanza se decantaría por HJK y SJK, que han finalizado en segunda y tercera posición respectivamente. Pero tras 33 encuentros, IFK consiguío 17 victorias y solo fue derrotado en seis ocasiones, con in balance goleador de 40 a favour y solo 25 en contra, siendo el equipo menos goleado de la competición.
Destacar en la faceta goleadora, los 12 goles conseguidos por Dever Orgill, 6 de Kangaskolka, 6 de Diego Assis y los 5 conseguidos por el capitán Jani Lyyski, que pese a ser defensa ha aportado in buen número de goles al casillero del equipo.
En la portería Walter Vitala, ha sido uno de los hombres claves en la consecución del título, con todos los minutos disputados en los 33 encuentros del campeonato.
Felicitar a IFK, que sin ser uno de los equipos grandes, ha conseguido desbamcar del título a los dos favoritos y gigantes del fútbol finlandés. Un buen ejemplo para otras competiciones.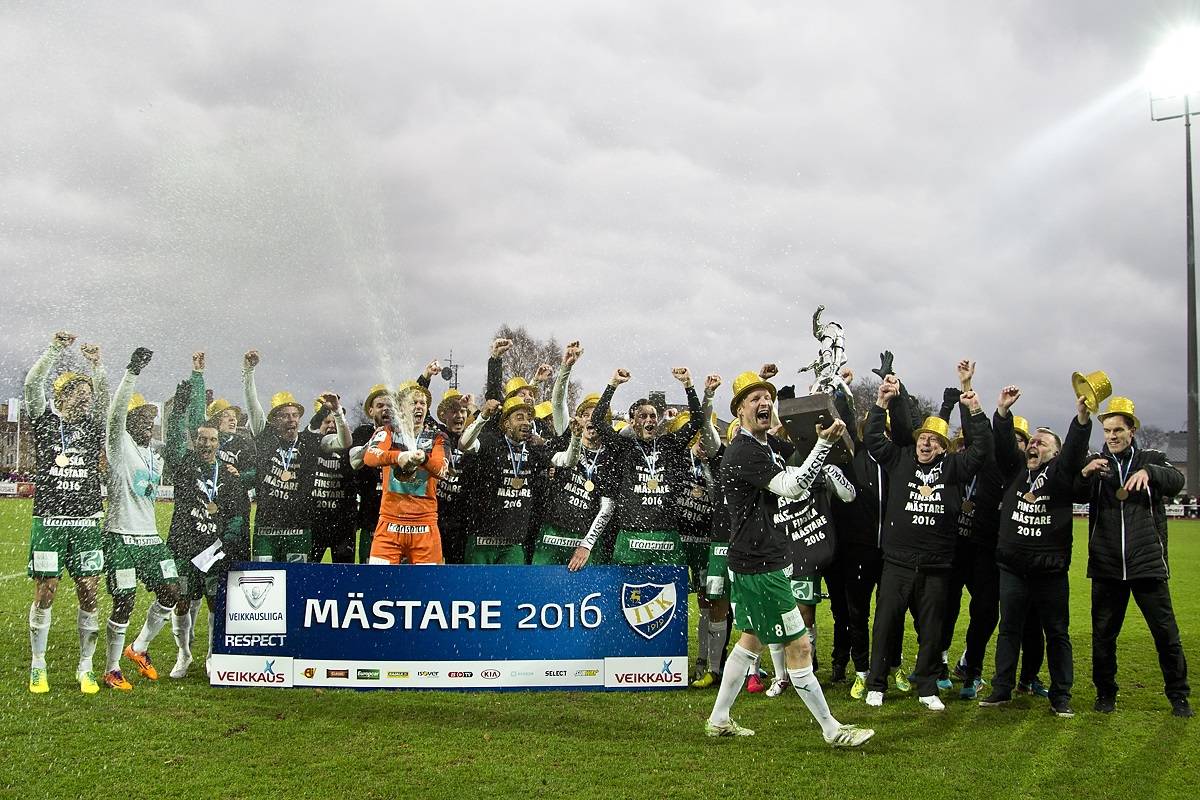 Picture: www.yle.fi
Yesterday, it was played the last round f the Veikkausliiga 2016. After winning its match against Ilves ,2-1, IFK Mariehamn is, for the first time in its history, the new Champion of the Finnish League.
In the next posts, I will introduce details of the 2016 Championship. There are now several months without competition (until January 2017 when the League Cup is starting), where it will be time to refer to personal classifications, promotions, relegations
, etc..
But in this article, it is fair to mention the current champion of the competition.
Founded in 1919, the football section was not ready until the mid-30s. However it was not until the late 90s early 2000s, when IFK begins to consolidate in the highest categories of football in Finland.
Since the late 90s IFK participates in käkkonen (equivalent to 2B), promoting to Ykkönen (second) in 2003 and finally to Veikkausliiga the following season.
During the twelve consecutive seasons at Veikkausliiga, the best position was a fourth place (three times) till the tittle got yesterday.
For this season, IFK started with a new couple of "coaches", Peter Lundberg and Jari Virtanen, replacing Pekka Lyyski, who was twelve years as a manager, leaving the club at the end of 2015, with the Cup tittle (Suomen Cup) and
with the team ranked in sixth position in the Veikkausliiga 2015.
Few or very few would bet on IFK as one of the candidates for the league title;
I imagine that anyone would bet on HJK and SJK, who have finished in second and third place respectively.
But after 33 matches IFK got 17 wins and was only beaten six times with a goal difference of 40 to 25.
Highlighting the 12 goals scored by Dever Orgill, 6 scored by Kangaskolka, 6 by Diego Assis and 5 scored by captain Jani Lyyski, which despite being defense has brought good number of goals in the team's locker.
Walter Vitala, the goalkeeper, has been one of the key men of the season, playing all 33 matches and all the minutes during the championship.
Just congratulate to IFK, that has managed to beat the two giants and tittle favourites.
A good example for other competitions.