Tras varios meses sin tener (por distintos razones) la posibilidad de hacer entrevistas, finalmente en el día de ayer por la tarde, tuve la ocasión de volver a la senda de las mismas. Espero que sea el principio de una serie de entregas que tengo previstas.
Alrededor de las 15:30 horas tuve la oportunidad de ponerme en contacto con
Jose Rivero
, entrenador y mano derecha de Shefki Kuqi en PK-35 Vantaa. Charla muy agradable, bastante constructiva con una persona a la que no había tenido la ocasión de dirigirme anteriormente y al que espero volver a ver cuando su equipo juegue de nuevo en Kuopio.
Muchas gracias por tu amabilidad y por el tiempo que me has dedicado.
After few months without interviews (for different reasons), finally yesterday evening I had the chance to make one. I hope it is the first of a number of interviews I have in mind.
Around 15:30 I started speaking with
Jose Rivero
, PK-35 Vantaa's coach and Shefki Kuqi's right hand . Very nice and constructive conversation with a man I had never spoken before. I hope I can meet him again when his team travels to Kuopio.
Thanks a lot for your time and for the quality of your answers and explanations.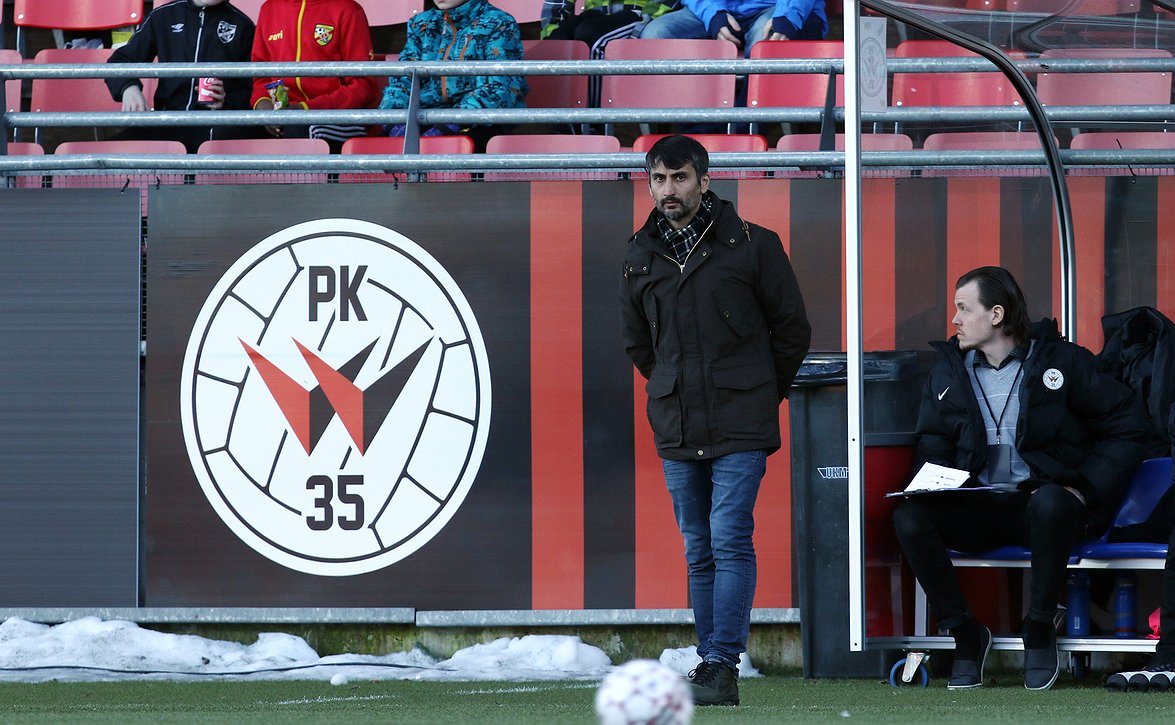 Picture: www.veikkausliiga.com
-Fecha de Nacimiento / Date of birth:
15.09.1977
-Como llegas a Finlandia? / How do you arrive in Finland?
Estaba entrenando en España al Celta de Vigo sub-17 (Jose Rivero tiene la titulación Uefa Pro y alrededor de 20 años de experiencia) cuando Pablo Couñago (actual jugador de PK-35 Vantaa y en aquel momento en Honka), le llamó para comentarle la posibilidad de venir a Finlandia. Kuqi necesitaba un ayudante, con lo que decidí embarcarme en ésta aventura.
I was working with Celta de Vigo under-17 (Jose Rivero has the Uefa Pro license and around 20 years of experience) when Pablo Couñago (now at PK-35 Vantaa and at that time at Honka) made me a call to explain about the possibility to move to Finland and help Shefki Kuqi.
- Después de los problemas financieros de Honka, como viviste esos momentos de incertidumbre? / After Honka´s financial problems, how were those moments?
Tras finalizar la temporada, y desde el mes de Noviembre, estaba de vacaciones en España. A partir de Diciembre, se empezaron a oir rumores sobre los problemas financieros de Honka. Estuvimos un mes bastante preocupados hasta que se produjo la solución final y PK-35 adquirió los derechos para jugar en la categoría en la que estaba Honka y a su vez, obtuvo los derechos sobre varios miembros del staff y jugadores del equipo.
After finishing the season, and since November, I was on holidasy in Spain. From December,I began to hear rumors about the financial problems of Honka. We were quite worried about during a month until the final solution when PK-35 acquired the rights to play in the category in which Honka was and also obtained the rights to several members of staff and team players.
- Antes de llegar a Finlandia, conocías algo de la Veikkausliiga o el fútbol finlandes? / Before arriving to Finland, did you know anything about Veikkausliiga or football in Finland?
No seguía nada de la Veikkausliiga. Sólo conocía a jugadores como Litmanen, Hyypiä, etc..pero nada del Campeonato doméstico.
I did not follow to much about Veikkausliiga before arriving here. I just know some players such as Litmanen, Hyypiä, but nothing about the domestic league.
- En tu opinion, que es lo mejor y lo peor del fútbol en Finlandia? / In your opinion, what is the best and the worst in relation with football in Finland?
Bueno, esta es una pregunta complicada. Diría que lo mejor es que es Veikkausliiga es un buen escaparate con vistas a una future salida professional tanto para jugadores como técnicos. A la vez, cada vez el Campeonato va ganando mas seguidores y atención. Sin duda, lo peor es el calendario y a consecuencia de ello, la planificación que hay que hacer. La pretemporada es demasiado larga.
Well, this is a difficult question. I would say the best is that Veikkausliiga is a good competition to improve, being know and have a professional future, both for players and managers. The worst is the planification we have to make according to the start and the end of the competition. The pre-season is too long.
-Como es trabajar with Shefki Kuqi? / How is worming with Shefki Kuqi?
Kuqi ha sido y es un luchador en todos los niveles, tanto personal como profesional. Ha tenido que luchar mucho para cumplir con sus objetivos. Tiene un temperamento fuerte, no le gusta perder, pero es un "pedazo de pan", muy buena persona,
Kuqi has been and it is a "hard worker" in all levels, both personal and professional. He has temper, he does not like being defeated but he is a really good person. If you need his help you will get it.
-PK-35 Vantaa: Aspiraciones / Aspirations.
Somos un equipo recién llegado a Veikkausliiga, con solo 1 o 2 jugadores con experiencia en la categoría, así que el principal objetivo es Mantener la categoría y seguir creciendo en la mismo.
We are a nex team in the category with only 1 or 2 players with experience in Veikkausliiga, so the task is to keep the category and continue growing in it.
-Finalmente, comentame sobre tus favoritos para la Champions League y el papel de España en la próxima Eurocopa / Finally, can you tell me about your favourites for the Champions League and the options of Spain in the next EuroCup.
Para la Champions League, contento que dos equipos españoles pueden llegar a la final. Atletico tiene un mérito especial es como el segundo equipo de todos y el Real Madrid sigue demostrando su calidad. Todavía queda la vuelta con lo que será difícil, especialmente para el Atletico. Respecto a la Eurocopa, éstas siempre son inciertas aunque al final los favoritos siempre son los mismos. Veo a Alemania como uno de los firmes candidatos. España? Estará ahí arriba aunque ahora están en fase de busqueda de una forma o línea de juego.
In relation to the Champions League, I am happy two Spanish teams can reach the final. Atletico has a special merit, it is like the second team of anyone. Real Madrid continues showing its talent. Both teams still needs to play the second leg, so it will be tough especially for Atletico.
EuroCup. It is difficult to say, but at the end, there are always the same teams fighting for the tittle. For me, Germany is one of the favourites.. Spain? We will be in the last stages, but now the squad is looking for a "way" or style of playing.
Una vez más, muchas gracias por tu atención y la mayor de las suertes para la temporada.