El pasado domingo se disputó la última jornada del campeonato finlandés. Antes del comienzo de la misma, tres equipos - SJK, Rops y HJK, optaban al título liguero, ya que sólo había dos puntos de diferencia entre ellos.
SJK
, que partía como primer clasificado y que dependía de sí mismo, recibía a Jaro, último clasificado y que necesitaba una victoria y esperar a otros resultados para poder salvarse del descenso. Como apuntaban todos los pronósticos y la lógica, SJK venció por 2-0, con goles de Hetemaj y Riski, con lo que conseguía el título liguero, acababa con la hegemonía de HJK y a su vez, condenaba al descenso a sus vecinos de Pietarsaari, FF Jaro.
Resaltar la figura del entrenador,
Simo Valakari
, que ha dotado a su equipo de un estilo claramente diferenciado, en el que predomina el buen trato del balón y la importancia en la posesión del mismo.
Destacar la aportación de jugadores como
Akseli Pelvas
, máximo goleador del equipo con 14 dianas,
Roope Riski
, que llegó en la última parte de la temporada, siendo bastante incisivo en la parte de arriba,
Hetemaj, Laaksonen y Brown
en el centro del campo, y de toda la linea defensiva y de su portero
Mihkel Aksalu
, ya que han terminado siendo el equipo menos goleado con sólo 22 goles recibidos.
La segunda plaza ha sido para
Rops.
Sin duda, la revelación de la temporada y que se ha quedado a 1 solo punto del campeón. Los de Rovaniemi visitaban en la última jornada a Lahti, que ya no se jugaba nada. Logicamente necesitaban la victoria y esperar que SJK no venciera en su duelo. Rops hizó los deberes, venciendo 1-4 con hattick de
Alexandr Kokko
, que ha finalizado como máximo goleador de la temporada con 17 goles.
HJK
tras seis temporadas consecutivas alzandose con el título, acababa la temporada en tercera posición. En su último encuentro vencía por 0-1 a Kups, pero era bastante complicado que pudiera conseguir el título, ya que necesitaba los tropiezos de SJK y Rops. Para HJK, siendo el mayor presupuesto con diferencia en Finlandia, y tras varias temporadas de reinado en Finlandia y de muy buenas actuaciones en Europa, el año 2015 se puede considerar como decepcionante, ya que no han cumplido las expectativas en el campeonato doméstico ni han conseguido acceder a la fase de grupos de la Europa league, tal y como hicieron en 2014.
Por la parte baja, descenso consumado de
Jaro
, que éste año no han sido capaces de salvar el mismo. Hasta la última jornada lucharon por evitar el mismo, junto a
KTP
, que finalmente jugará la promoción junto al segundo clasificado de Ykkönen, PK-35 Vantaa.
VPS
finalmente consiguió mantener la categoría tras ocupar la última plaza de la clasificación durante gran parte del campeonato. Un buen final de temporada, con varios resultados positivos seguidos, aseguran el mantenimiento de la categoría para los de Vaasa.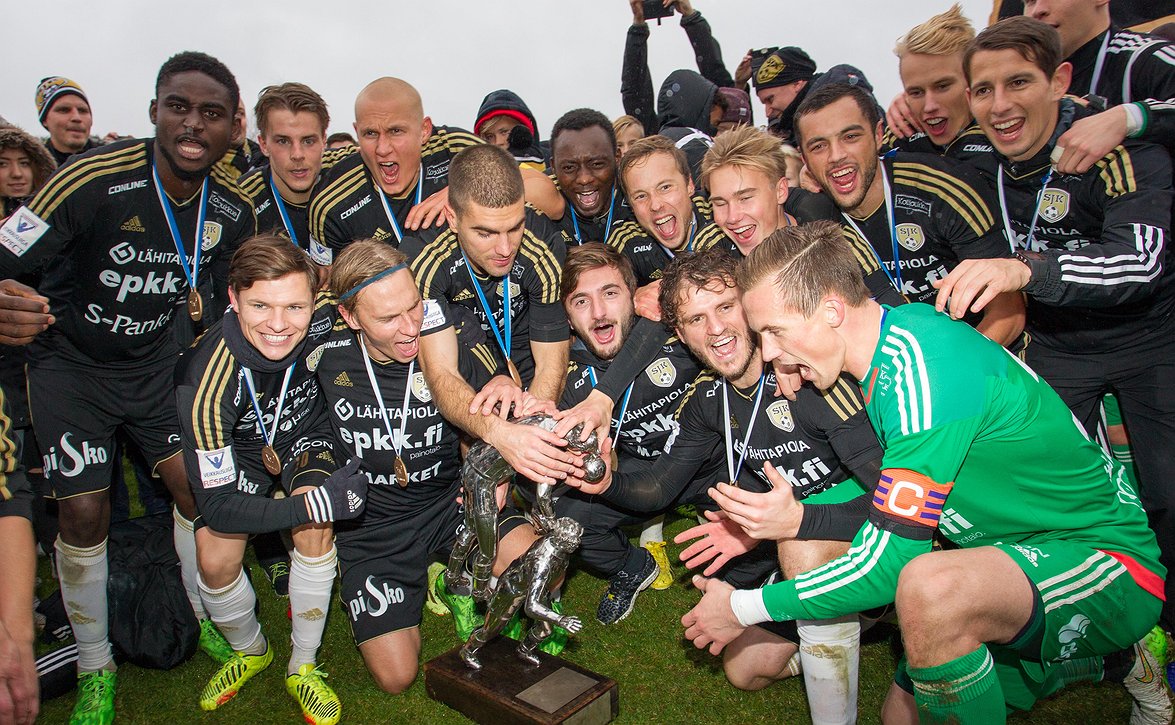 Picture:
www.veikkausliiga.com
Last Sunday, it was played the last round of the Finnish Championship .
Before it three teams - SJK, Rops and HJK, had options to win the league title; there were only two points between them.
SJK, started the last round at first position, depending on themselves. The match was against Jaro, placed in last position and needed a win and waiting for other results to avoid the relegation.
SJK won 2-0 with goals scored by Hetemaj and Riski. With that result they got the title, ending with the hegemony of HJK ​​and sending to its neighbors from Pietarsaari,
FF Jaro, to Ykkönen.
Highlight the figure of the coach, Simo Valakari, who has given to his team a different style, in which predominates the importance of the possession of the ball.
Players like Akseli Pelvas, top scorer with 14 goals, Roope Riski, who arrived in the second part of the season, being quite incisive in the top, Hetemaj, Laaksonen and Brown in midfield,
and all the defensive line and goalkeeper Mihkel Aksalu; they have ended up being the only team with only 22 goals received.

The second place went to Rops.
No doubt the revelation of the season ending the championship only a point behind.
The team from Rovaniemi visited Lahti, on the final day.
Logically they needed the victory and a tie or lost of SJK.
Rops did the work, winning 1-4 with a hattrick of Alexandr Kokko, who finished as top scorer of the season with 17 goals.

HJK after six tittles in a row, finished the season in third place.
In their last match 0-1 victory vs Kups, but it was pretty complicated that could have won the title, as they needed the defeats of SJK and Rops.
For HJK, being by far the largest budget in Finland, and after several seasons reign in Finland and good performances in Europe, the 2015 can be seen as disappointing as they have not got the expectations in the domestic championship or have
gained access to the group stage of the Europe League, as they did in 2014.

At the bottom, Jaro was relegated.
Until the last day they have fought to avoid it, with KTP, which eventually will play the promotion against the second placed at Ykkönen, PK-35 Vantaa.

VPS finally managed to maintain the category after being in the last place of the table during a big part of the championship.
A good end of the season, with several consecutive positive results, ensure the maintenance of the category for the squad of Vaasa.