El pasado jueves 20 de Febrero se disputaron los partidos de ida de los dieciseisavos de final de la Europa League. En tres de los encuentros hubo participación de jugadores finlandeses.
Betis - Rubin Kazan
. Encuentro disputado en Sevilla, que terminó con un buen resultado para el Rubin Kazan, donde juega
Roman Eremenko
, quien consiguió el gol para el equipo ruso, tras la transformación de un penalti. El resultado final del encuentro 1-1.
Ajax- Salzburgo
. Una de las grandes sorpresas de la jornada, ya que el Ajax, con
Niklas Moisander
en el centro de la defensa, perdió 0-3 ante un Salzsburgo que tuvo al español Jonathan Soriano en plan estelar, consiguiendo dos goles. Moisander, de lo poco destacable en el equipo holandés.
Lazio- Ludogorets.
Otra sorpresa en éstos encuentros de ida, fue la victoria del equipo bulgaro, en Roma, por 0-1. El jugador finés
Tero Mäntylä
, internacional sub-21, jugó los 90 minutos en el equipo bulgaro.
Los partidos de vuelta serán el próximo jueves 27 de Febrero..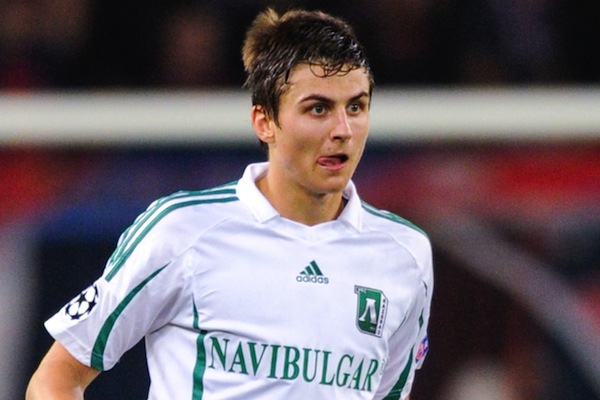 Last Thursday the 20th of February, started the round of 32 matches of the Europe League, where 3 finnish players took part in their different squads.
Betis - Rubin Kazan.
Match played in Seville , which ended with a good result for Rubin Kazan, where Roman Eremenko plays. He scored the goal for the Russian team , after a penalty shoot.
The final result of the match , 1-1.
Ajax- Salzburg.
One of the great surprises of the day , as the Ajax , with Niklas Moisander in central defense, lost 0-3 to a Salzburg. Jonathan Soriano was the start of the match , getting two goals.
Moisander, one who did not play bad for Ajax.
Lazio- Ludogorets .
Another surprise in these meetings leg, was the victory of the Bulgarian team in Rome , 0-1 .
The Finnish player Tero Mäntylä , Under-21 international , played 90 minutes in the Bulgarian team .
The second legs will be on Thursday February 27th ..