Con ésta tercera entrada en relación a la temporada 2013 haré referencia a los cinco equipos clasificados en las últimas posiciones de la tabla. Con el artículo, pondré fín al resumen del año 2013, que como habeis podido comprobar he desglosado en tres partes, para mayor comodidad y agilidad tanto a la hora de escribirlo como a la hora de leerlo.
This is the third and last article in relation with my "view" about 2013 season. In this one, I'll write about the teams that ended the championship in the last five positions of the table. As you have already realised, I made three parts to "describe" the 2013 season. I thought it was easier both for writting and reading.. I hope I was right.
TPS.
Sin lugar a dudas uno de los equipos que ha tenido un rendimiento bastante mas bajo del esperado. Tras realizar un buen comienzo de temporada, quedando primero de su grupo en Copa de la Liga (donde cayó eliminado en semifinales, en la tanda de penalties), eramos muchos los que pensabamos que TPS podría terminar en las tres primeras posiciones de la tabla. Sin embargo el octavo puesto conseguido, junto a la eliminación en la primera ronda de la fase previa de la Europa League, ante el modesto equipo luxemburgues, Jeunesse Esch y la también pronta eliminación de la Copa (cayeron en octavos de final, ante IFK), hacen que la temporada 2013 haya de considerarse como bastante pobre para el equipo de Turku.
Destacar, quizás las buenas actuaciones de su guardameta, Jukka Lehtovaara, elegido en la gala del equipo en Noviembre, jugador de la temporada. En el plano goleador, destacar a Roope Riski, que finalizó como máximo goleador de TPS con 7 goles.
Picture:
www.yle.fi
There's no doubt the season of TPS has been worse than expected.

After

a good

start of the season

, being

first in his group

in

the League

Cup

(

where TPS

was eliminated

in the semifinals

in athe penalties

), we were

many who

thought that

TPS could end

in

the first three positions

of the table.

However, the

eighth

place

,

together with the elimination

in the first round

of

the

preliminary stage of the

Europa League

,

against a

Luxembourg

team

,

Jeunesse

Esch,

and

also the

elimination

in Finnish Cup (

against

IFK, before quarter-finals

),

make me think that

2013 season

has

to be considered

as rather

poor for the

Turku

team

.
Highlight

,

perhaps,

the good performances

of goalkeeper

Jukka

Lehtovaara -

elected at the

team

gala

in November

, player

of the season-.

The top scorer of TPS during the season was

Roope

Riski

, who finished with

7 goals.
Inter Turku.
Al igual que sus vecinos (TPS), una de las grandes decepciones de la temporada. Noveno clasificado, en una liga de doce equipos, eliminado en la primera ronda previa de la Europa League ante un equipo de Islas Feroe y sin alcanzar los cuartos de final ni en la Copa ni en la Copa de la Liga.. Con éste bagaje, y tras terminar segundo en la liga de 2012, nos confirman la mala temporada realizada por Inter Turku. Ya en pretemporada, sobre todo en la Copa de la Liga, se podía observar que sería un año dificil para Inter.. A modo de ejemplo, destacar que quedó último en su grupo de la Copa de la Liga, con sólo 1 punto en 6 partidos. En Veikkausliiga, sólo 9 victorias en 33 partidos, con 31 goles a favor, nos indican claramente como ha sido la temporada para los de Turku.
Por destacar algo, la aportación goleadora de su delantero, Irakli Sirbiladze, que finalizó la liga con 9 goles (de los 31 conseguidos por el equipo).
Picture:
www.ts.fi
Like their

neighbors

(

TPS), one of

the great disappointments

of the season.

Nineth

-placed

in a league

of

twelve teams,

eliminated in

the first

qualifying round of the

Europa League

against a team from

Faroe

Islands, and

without

reaching

the quarterfinals

or the

Cup

or

League

Cup

..

With this

background

,

and

after finishing second

in the league

in

2012

, confirm

the

poor season

by

Inter

Turku

.

Already in

pre-season

, especially

in the

League Cup

, you could

see that

would be a

difficult year

for Inter

..

As an example

, note that

finished last

in its

group in the

League Cup

,

with

only 1 point

in

6 games

.

In

Veikkausliiga

,

only

9 wins

in 33 games

,

with 31

goals scored

, indicate

clearly

as

has

been

the season

for

Turku.




To highlight

something,

the contribution

of the

striker

,

Irakli

Sirbiladze

, who finished

the league with

9 goals.
FF Jaro.
Al principio de temporada, todo el mundo apostaba por Jaro, junto a Rops, como uno de los candidatos al descenso de categoría. Sin embargo, pese a acabar en décima posición, dos tercios de la temporada de Jaro han sido bastante aceptables, estando colocados en gran parte de la misma en las posiciones altas de la tabla.. A principios de año y con la visita de Jaro a Kuopio para el partido de Copa de la Liga ante Kups, tuve la ocasión de hablar con uno de los responsables de Jaro. En ese partido la imagen fue mala y además ello preveían una temporada difícil. Pero, como he indicado, dos tercios de temporada muy aceptables, consolidando la categoría, hacen que el equipo de Pietarsaari juegue un año mas en Veikkausliiga. En la tercera parte de la Liga, el equipo se quedó sin gasolina, ya que perdieron practicamente todos los partidos. Una de sus únicas victorias en la tercera vuelta fue ante Rops, lo que le permitió evitar la penúltima plaza del Campeonato.
En la parte goleadora, destacar a Emet, con 9 goles y Winchester con 8 goles, de los 41 goles conseguidos por el equipo durante la temporada.
Picture:
www.bemer.fi
At the beginning of the season , everyone betting for Jaro , together with Rops , as one of the relegation candidates .
However, despite finishing in tenth place , two thirds of the season have been quite acceptable for Jaro, being placed in many weeks in the high positions of the table ..
Earlier this year, with a Jaro 's visit to Kuopio for a match of the League Cup against Kups , I had the chance to talk to one of the leaders of Jaro .
In that game the image was poor and it also predicted a difficult season .
But , as I indicated , two-thirds of the season were very acceptable , consolidating the category, so the team from Pietarsaari will play one more year in Veikkausliiga .
In the third part of the League , the team ran out of gas as they lost almost every game.
One of his only victories in the third leg was against Rops, which allowed him to avoid the penultimate place in the championship .
In the scoring, Emet , with 9 goals and Winchester with 8 goals (of the 41 goals scored by the team during the season).
Rops.
El equipo de Rovaniemi, retornó a la Veikkausliiga en 2013, tras jugar en 2012 en Ykkönen, salvó la categoría, aunque hayan quedado penúltimos, y ha sido Campeón de la Copa de Finlandia, tras derrotar a Kups en la final por 2-1.. Para mí, grandísima temporada de Rops, consiguiendo uno de los tres títulos en juego y asegurando su plazo para las rondas previas de la Europa League la próxima temporada. En la Liga, Rops aseguró su continuidad en la categoría sobre todo en la primera mitad del Campeonato, donde fue un equipo muy fuerte en su casa, ganando gran parte de los partidos.
En la Copa, excepcional campeonato de Rops, ganando con facilidad en cuartos y semifinales, y siendo muy superior a Kups en la final.
En el plano personal, destacaría las aportaciones del centrocampista Okkonen, para mí hombre clave en la estructura del equipo y Kokko, que consiguió los dos goles de la final de Copa y terminó la liga con 6 tantos..
En la parte negativa, destacar la dificultad de Rops para conseguir goles, con sólo 25 tantos a favor durante todo el campeonato.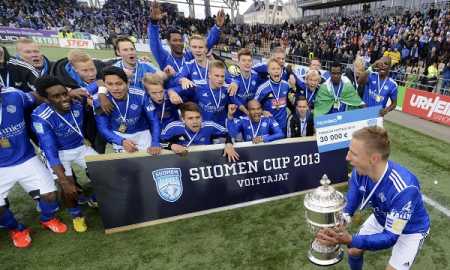 Picture: www.finlandtimes.fi
The team from Rovaniemi ,returned to the Veikkausliiga in 2013 , after playing in 2012 in Ykkönen saved the category (but have been penultimate), and it has been Champion of Finnish Cup , defeating in the final Kups 2-1.
.
For me , very great season for Rops, getting one of the three titles at stake and ensuring their term for the previous rounds of the Europa League next season.
In the League , Rops ensured its continuation in category especially in the first half of the season, where was a very strong team at home, winning most of the matches.
In the Cup, exceptional championship, winning easily in the quarterfinals and semifinals, and being much beeter than Kups in the final.
On a personal level, I would highlight the contributions of midfielder Okkonen, for me key man in the team structure, and Kokko, who got both goals in the Cup final and finished the league with 6 goals.
On the negative side, the difficulty of Rops for scoring goals,with only 25 goals in favor during the tournament.
JJK.
Último clasificado del campeonato, lo que le llevarán a jugar la próxima temporada en Ykkönen.
Pocos contaban con el descenso de JJK, a principios de año, donde llegó a jugar la final de la Copa de la Liga ante Lahti. Sin embargo, con sólo cuatro victorias en todo el campeonato, donde además encajó 64 goles, han condenado al equipo de Jyväskylä al descenso de categoría.
La temporada la empezó de entrenador, Kari Martonen, que llevaba 3 años al frente del equipo (habiendo jugado con el mismo en las previas de Europe League), que fue destituido a mitad de la misma, por Juha Pasoja, que tampoco pudo enderezar la situación del equipo en la liga (en la Copa de Finlandia llegaron, por contra, hasta semifinales, donde cayeron ante Kups por 0-1).
Hilska, terminó como máximo goleador del equipo, con sólo cinco goles, de los 27 conseguidos por JJK en la temporada..
Picture: www.jjk.fi
Last

classified

in t

he championship

,

so they have to

play next season

in

Ykkönen

.




Not many of us thought at the beginning of the year that JJK will be relegated, especially

when the team reached

the final of

the League

Cup

against

Lahti.

However, with

only

four wins

in the tournament

, which also

conceded

64 goals

,

have condemned the

Jyväskylä

team

to

relegation

.




The

season

started

with

Kari

Martonen

, who had been manager for three years

(

having played

with it in

the

previous

Europe League

)

,

who was sacked at the half of the season

,

being also

Juha

Pasoja not able to sort out the

situation

in the league

(

in

the

Finnish Cup

came

, instead,

they reach

the semifinals

,

where they lost

by

0-1

Kups

)

.




Hilska

,

finished as top

scorer

with only

five goals

,

of the 27

achieved by

JJK

season

..