Ayer se disputó el último encuentro de la jornada 20 de la Veikkausliiga.
Como hechos destacables, la victoria del lider, Inter por 0-2 ante Haka, lo que consolida al equipo de Turku en la primera posición, con 4 puntos de ventaja sobre HJK. En la parte baja de la tabla, derrotas de los dos últimos clasificados, Kups y Jaro, lo que hace que la situación de ambos en la liga empiece a ser algo preocupante.
Yesterday it was played the last match of the 20th round of the finnish Championship, Veikkausliiga, with the game between TPS and IFK. The final score was 1-1.
The current leader, Inter, got an important victory over Haka, 0-2, so they are on the top of the table, with 4 points difference with HJK.
At the bottom, both Kups and Jaro lost their matches, so the situation is starting to be difficult for both...
Resultados / Fixtures:
Mypa 3 - Lahti 1
HJK 3 - VPS 3
Jaro 0 - JJK 3
Kups 0 - Honka 2
Haka 0 - Inter 2
TPS 1- IFK 1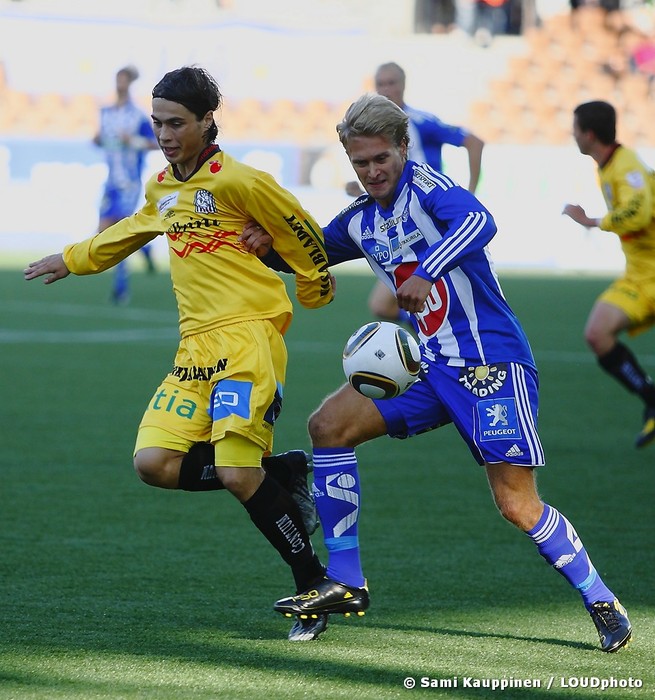 Picture: www.canonistas.com
Clasificación / Table League:
| Seura | O | V | T | H | TM | PM | ME | P |
| --- | --- | --- | --- | --- | --- | --- | --- | --- |
| FC Inter | 20 | 12 | 2 | 6 | 41 | 24 | 17 | 38 |
| HJK | 20 | 10 | 4 | 6 | 31 | 19 | 12 | 34 |
| IFK Mariehamn | 20 | 9 | 7 | 4 | 29 | 22 | 7 | 34 |
| FC Honka | 20 | 9 | 4 | 7 | 21 | 22 | -1 | 31 |
| TPS | 19 | 9 | 3 | 7 | 29 | 19 | 10 | 30 |
| VPS | 20 | 8 | 6 | 6 | 23 | 17 | 6 | 30 |
| MYPA | 20 | 8 | 5 | 7 | 21 | 17 | 4 | 29 |
| JJK | 20 | 8 | 3 | 9 | 33 | 38 | -5 | 27 |
| FC Lahti | 21 | 8 | 1 | 12 | 22 | 36 | -14 | 25 |
| Haka | 20 | 7 | 0 | 13 | 20 | 29 | -9 | 21 |
| FF Jaro | 20 | 5 | 5 | 10 | 15 | 30 | -15 | 20 |
| KuPS | 20 | 5 | 4 | 11 | 21 | 33 | -12 | 19 |