Este miercoles comienza la 18 edición de la Copa Algarve de selecciones nacionales, en categoría femenina. La selección finlandesa se encuentra encuadrada en el grupo A, junto a las selecciones de Noruega, Estados Unidos y Japón. La competición está formada por 12 equipos, en 3 grupos, con un formato algo complicado, ya que solo los campeones del grupo A y B pueden optar al título en la final del próximo 9 de Marzo a las 5 p.m.
Según informa la web de la Federación finlandesa de fútbol (
http://www.suomenpalloliito.fi/
), el equipo finés podrá contar con una de sus jugadoras mas importantes, Leena Puranen, quien tras haber tenido problemas de rodilla y no haber jugado el último amistoso ante Rusia (5-4 para Finlandia) vuelve al equipo nacional. Para la jugadora, "se trata de un torneo bastante duro, por el formato y por la entidad de los rivales. Una de las claves para ganar a Estados Unidos es una defensa bastante agresiva y poder conseguir la posesión del balón".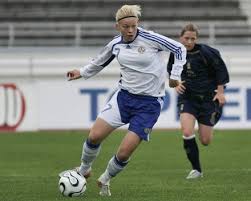 Tomorrow begins the 18th edition of the Algarve Cup for national teams in women´s category.The Finnish National Team will play in A Group, against USA, Norway and Japan.The competition consist in 12 teams in 3 groups in a different format, where only the winners of the groups A and B, will play the final for the Tittle, the 9th of March.
As you can read in the web of the finnish football federation (
http://www.suomenpalloliito.fi/
), Leena Puranen, one of the most valuable player of the country, will be in the tournament, after suffering knee injuries (she did not play the last friendly game against Rusia, where Finland won 5-4). The player said "this is a very tough tournament, due to the format and the quality of the different squads. The key to winning to USA is a very agressive defense a keep the ball as much as we are able". Good luck for the finnish team.